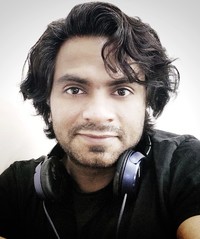 Dr. Nikesh Bajaj
Artificial Intelligence and Behaviour Analytics
I have formal education in Engineering and my work has been remotely related to psychology. I have completed PhD in Machine Learning and Signal Processing from Queen Mary University of London. My PhD work (https://PhyAAt.github.io) was around Auditory Attention. Currently, I am working as a Postdoctoral Research Fellow for behavior analytics for deception detection. I do not have any formal education in psychology, though, I have been reading books, chapters, research articles, and doing online courses in the field of psychology as a hobby.
Education
M.Tech, Signal Processing

Department of Electronics Engineering, Aligarh Muslim University, India

2010

PhD, Machine Learning & Signal Processing

School of Electronics Engineering and Computer Science, Queen Mary University of London, UK

2019
Honors and Awards
Best Student Award 1999
Best Faculty Facilitator Award 2015
Best Faculty Award 2014-2015
MHRD Funding for Masters
JD-ICE Funding for PhD
Work Experience
Teaching Assistant

Aligarh Muslim University, India

September 2008 - March 2010

Assistant Professor

LP University, India

July 2010 - December 2015

Teaching Assistant

Queen Mary University of London, UK

March 2017 - December 2018

Postdoctoral Research Fellow

University of East London, UK

July 2019 - present
Membership in Professional Organizations
Associate Member of Institute of Electronics and Telecommunication Engineers
Languages Spoken
English

Intermediate proficiency
Summary
Primary goal: To get into field of psychology
Will become available: August 1, 2020
Willing to relocate: No

Description
I have no formal education in psychology, though I read books, articles, chapters, and been doing online courses. I would love to be involved in any research studies. I have a strong background in statistics and data analytics, which might be helpful for any ongoing projects. Since I have a full-time job, I am not looking for paid work. I can volunteer to get exposure.
Note from the Network: The holder of this profile has certified having all necessary rights, licenses, and authorization to post the files listed below. Visitors are welcome to copy or use any files for noncommercial or journalistic purposes provided they credit the profile holder and cite this page as the source.
Dr. Nikesh Bajaj
EB1.99
London E16 2RD
United Kingdom

Work: +44 (0)20 8223 6055
Mobile: +44 (0) 7459047121
Skype Name: nikesh.bajaj