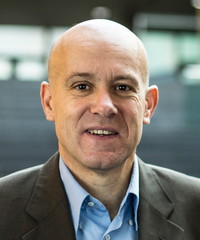 Prof. Dr. Bernhard Streicher
Interests: Risk, Uncertainty, Risk Culture, Decision Making, Fairness, Justice
Bernhard Streicher is a Full Professor for Social and Personality Psychology and Head of the Department of Psychology and Medical Sciences at the University for Health Sciences - UMIT in Hall, Tyrol in Austria. His research interests include the psychological mechanisms of decision-making under risk and uncertainty and the question of how to enhance the risk competencies of people and organizations. In addition to his scientific research Professor Streicher works as a lecturer and consultant regarding the topic of 'risk' for profit and non-profit organizations. Professor Streicher received his academic titles from the Ludwig-Maximilian University Munich in Germany.
Prof. Dr. Bernhard Streicher
Eduard-Wallnöfer-Zentrum 1
6060 Hall i.T.
Austria