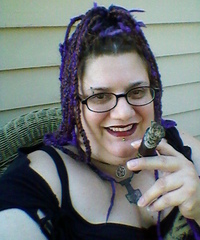 Khaos WolfKat
Learning is a lifetime avocation!
I tend to be a defier of labels, though I do hold a great many beliefs which are often associated with varying such labels. If one makes assumptions based on one or two things they know about me, they are likely to be disillusioned at best.

I have many passions, including music, reading, education (furthering my own and educating others), animal rescue, holistic healing, spirituality, the Earth, finding wonderment in all things, enjoying nature, whether a strip of garden along a busy street, out in the middle of the National Forest, or anything in between, my fine cigars, chocolate (86%+ cocoa), and coffee (organic, fair trade, shade grown, bird friendly. Yes, I am an elitist! LOL).

I love camping, spending time with my dogs (and your dogs, and strangers' dogs, and...) and grandkids, volunteering for several organisations, being silly, web design, and lots of other things.

I am a vocalist, writer of poetry, lyrics, erotica and commentary, a professional geek, minister, soap maker, herbalist, friend, lover and worshipper of life in all it's greatness.

A more involved description of me can be found here: http://metalden.com/pers.php , though do be warned - it isn't all rainbows and kitties!
Education
None earned - Coursework only, Music Theory

North Seattle Community College

2001

None earned - Coursework only, Psychology; Music Theory

Seattle Central Community College

1998

None Earned - Coursework only, Psychology

Highline Community College

1987

GED

Seattle Indians of all Tribes

1987
Note from the Network: The holder of this profile has certified having all necessary rights, licenses, and authorization to post the files listed below. Visitors are welcome to copy or use any files for noncommercial or journalistic purposes provided they credit the profile holder and cite this page as the source.
Khaos WolfKat
Seattle, Washington
United States